For english version please read below.
Z├íkladn├ş popis
ER9 MIDI interface (d├íle jen ER9MIDI) je roz┼íi┼Öuj├şc├ş sada (kit) pro bic├ş modul Vermona ER9, kter├Ż umo┼żnuje p┼Öipojit tento analogov├Ż modul k MIDI za┼Ö├şzen├şm.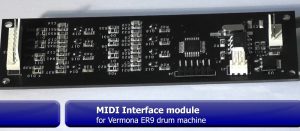 D├şky ER9MIDI z├şsk├ív├í Vermona ER9 dv─Ť nov├ę funkce:
umo┼żnuje spou┼ít─Ťt jednotliv├ę zvukov├ę gener├ítory BD (36), SD (40), CY (41), HH (42), TT (45), CB (56), BG (61), MA (70), CL (75) Vermony ER9 pomoc├ş MIDI klaviatury, nebo MIDI sekvenceru. V z├ívorce jsou uvedeny ─Ź├şsla MIDI not podle percussion MIDI map.
umo┼ż┼łuje synchronizaci Vermony ER9 s MIDI clock sign├ílem. To znamen├í, ┼że lze synchronizovat modul Vermona ER9 nap┼Ö├şlad s Digital Audio Workstation (Cubase, Ableton…), MIDI sekvencery (Arturia Beatstep…), syntez├ítory, samplery atd, kter├ę vys├şlaj├ş MIDI clock sign├íl.
ER9MIDI kit obsahuje:
ER9MIDI interface PCB
kabely s konektory
1x jack 6.3 mm audio konektor
konstruk─Źn├ş prvky, tj. spojovac├ş materi├íl, izolace, distan─Źn├ş sloupky
N├ívod k instalaci a pou┼żit├ş
ke sta┼żen├ş zde: ER9MIDI_navod_k_instalaci
Objedn├ívka a doru─Źen├ş
Pro objedn├ín├ş ER9MIDI pros├şm po┼ílete e-mail na adresu vancura.pavel@email.cz. V e-mailu uve─Ćte po─Źet kus┼», dodac├ş adresu a informaci zdali si p┼Öejete ER9MIDI kit zaslat na dob├şrku, nebo zaplat├şte p┼Öevodem na ├║─Źet. Doba dod├ín├ş v r├ímci ─îR je 3-5┬á pracovn├şch dn├ş.
Cena
Cena kompletn├şho kitu je 2950 K─Ź. Dob├şrka + po┼ítovn├ę 130 K─Ź. Po┼ítovn├ę (v p┼Ö├şpad─Ť platby na ├║─Źet) 100 K─Ź. Pokud chcete ER9MIDI nechat odborn─Ť nainstalovat v m├ę d├şln─Ť, je cena 3950 K─Ź.

Upozorn─Ťn├ş
Instalace ER9MIDI je jednoduch├í a sta─Ź├ş pouze z├íkladn├ş elektrotechnick├ę znalosti a pr┼»m─Ťrn├í manu├íln├ş zru─Źnost. Nutn├í je tak├ę z├íkladn├ş dovednost p├íjen├ş. P┼Öed objedn├ín├şm si nejprve p┼Öe─Źtete ER9MIDI_navod_k_instalaci. Pokud si nejste jist├ş, bude lep┼í├ş kdy┼ż ER9MIDI nech├íte instalovat p┼Ö├şmo v m├ę d├şln─Ť, nebo jinou osobou kter├í m├í pot┼Öebn├ę dovednosti. V p┼Ö├şpad─Ť dotaz┼» m─Ť kontaktujte e-mailem.
Video
English version:
Basic Description
ER9 MIDI interface is retrofit kit for module Vermona ER9 which allows connecting this analog module with other MIDI devices.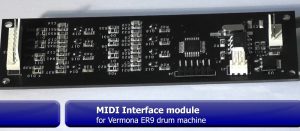 ER9 MIDI Interface has following features:
permits to trig individual percussions BD (36), SD (40), CY (41), HH (42), TT (45), CB (56), BG (61), MA (70), CL (75) of Vermona ER9 using MIDI notes or sequencer. In parenthesis are stated MIDI note numbers regarding percussion MIDI map.
allows MIDI clock synchronization. It means that you can synchronize Vermona ER9 with DAWs (Cubase, Ableton ..), MIDI sequencers, synthesizer, samplers and any other MIDI devices which are able to send MIDI clock signal.
ER9MIDI kit contains:
ER9MIDI interface PCB
cables and connectors
1x jack 6.3 mm audio connector
mounting materials

User and Installation Guide
You can download the guide here: ER9MIDI_userGuide
Ordering and Shipping
For ordering please send me an email to address vancura.pavel@email.cz. In the email specify the number of pieces, delivery address, and PayPal address. Then I'll send PayPal request for payment. The kit will be shipped as soon as payment is received. Delivery time is typically one week for EU.
Cost
ER9 MIDI interface cost is 130ÔéČ. Shipping cost approx. 25ÔéČ (it may vary depending on your location). Installation of the kit cost is 50ÔéČ.

Warning
Installation of ER9 MIDI interface is easy. It handles everyone who has a basic manual and soldering skills. Before ordering please read ER9MIDI_userGuide. If you are worried about the installation please contact me and I can install the kit for you. For any questions please contact me at vancura.pavel@email.cz.
Video